AC Geared Motor, TYC-50
TYC-50 Synchronous Motor 110V 0.8/1RPM Gear Motor CW/CCW Large Torque
---
* AC Synchronous motor, low power consumption, low noise, large torque.
* Constant speed, not affected by voltage, and not easily damaged due to stalling
* Gears are combination of metal and plastic which ensures the motor works durable and quietly.
* Offer customization support(OEM), such as motor shaft, speed, torque, and wire length.
* Bulk orders enjoy big discount.
$11.90
This is a TYC-50 AC 110V-130V 0.8-1RPM synchronous motor, small power consumption,
low noise, small size, lightweight, and easy to use. The reduction gear is a combination of metal/plastic to ensure the gear works continuously and quietly.
We promise we test ever motor before shipment.
【Specification】
Product Name: Synchronous Motor
Model: TYC-50
Shaft Diameter: 7mm
Shaft Length: 16mm
Direction: CW/CCW(UNCONTROLLABLE)
Voltage: AC 110V-130V
Speed: 0.8-1RPM/min
Power: 4W
Torque:≤14kg.cm
Frequency: 50/ 60Hz

【Application】
Widely used in hand-made, school projects, electric fan shake heads, heaters,
Christmas trees, prayer cylinders, air conditioners, microwave ovens, glue machines, electric ovens, rotating lamps,
electric tables, electric models, electric advertising, electric shelves, dishwashers, control appliances, curtain machines, etc.
【Package Content:】
1 x Synchronous Motor

【Attention】
1.The applicable voltage of this motor is AC 110V-130V, too high voltage will burn the motor.
2.The motor speed is not an accurate value, the speed will change with the frequency. For example, the speed is 0.8-1RPM,
at 50 Hz, the speed is 0.8RPM; at 60 Hz, the speed is 1RPM.
【 Guarantee】
Lifetime technical guidance support! You are welcome to share your usage process with us at any time.
1 year warranty (free exchange)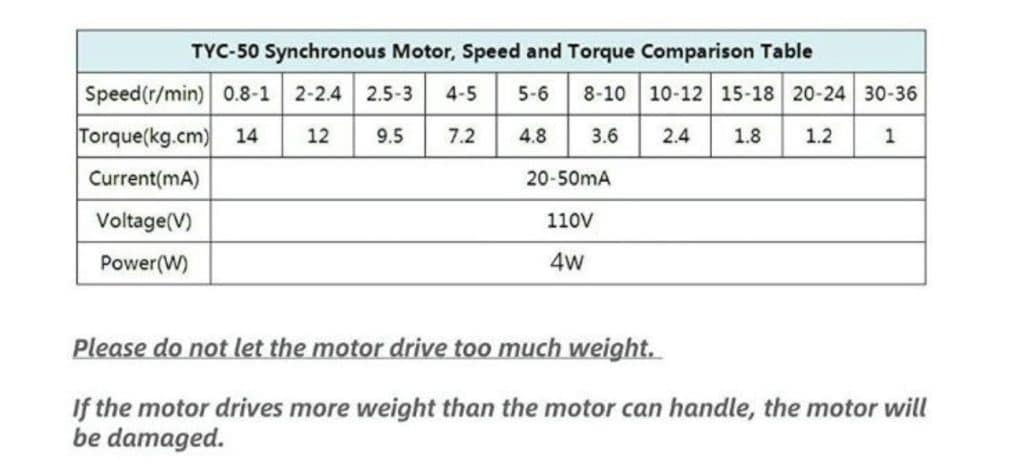 Didn't find what you wanted? Take a look at these below ⇓
| | |
| --- | --- |
| Weight | 0.1 kg |
| Dimensions | 10 × 9.5 × 4.5 cm |
| AC/DC | AC |
| Rotation | |
| Speed | 0.8/1RPM |
| Voltage | 110V |
| Torque | 14kg.cm |
Model: TYC-50 Shaft Diameter: 7mm Shaft Length: 16mm Direction: CW/CCW(UNCONTROLLABLE) Voltage: AC 110V-130V Speed: 0.8-1r/min Power: 4W Torque:≤14kg.cm Frequency: 50/ 60Hz